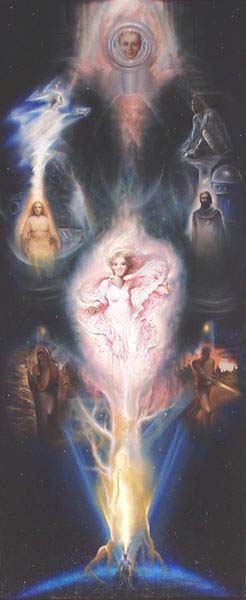 "TREE OF LIFE". 1986. Oil on canvas.

The painting depicts an sypherotic system ofhierarchic beings, representing ten levels of the spiritial staircase. Every image is, to a certain extent, a documentary evidence of their existence and the author himself is a living witness of it. These personifications embody a definite tchakra, i.e. they are governing it in the hierarchic Body. The so-called Spiritual Triade – the Rising Sequence of Levels – is as follows (fragments):
1) Mental centre – The Angel of Sun;
2) Throat centre – Venus, Mother of Stone
3) The Archistrategist with a sword – Mercury;
4) Heart – the Sun – centre of the system
5) Mother of Light – Jupiter
6) Master Morya – Mars
7) Mother of the Lightning (Magdalene, loved by God) – Uranus
8) The Person of Saturn
9) Serafim – Neptune.
(A. Rekunenko)